Government and church march against abuse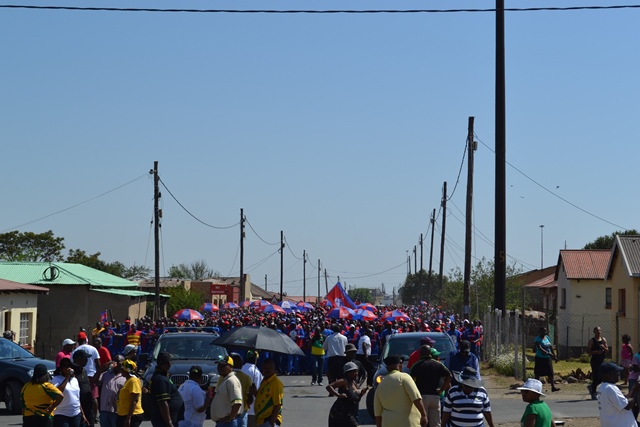 The streets of Bohlokong in Bethlehem, under Dihlabeng Local Municipality, were a kaleidoscope of the red, blue and white colours of the Tyrannus Apostolic Church when Premier Ace Magashule, members of executive council and Apostle Simon Mokoena led more than ten thousand men and boys in an anti-women abuse march last Sunday.
The march was organised by the church to throw its weight behind the national calls for an end to women abuse, drugs and alcohol abuse among the youth. It specifically targeted men and boys because they are the major perpetrators of these crimes.
"Our men are ordained to be leaders by God; He created man in his image, therefore our campaign is to call on our men and boys to act as leaders and be the protectors and providers to women and children. If we instill the importance of respecting women in our boys, the rate of abuse of women and children will be history," said Magashule.
The premier said the Free State provincial government had teamed up with churches in its moral regeneration campaigns in order to ensure that the anti-women and drug abuse messages reach as many men as possible in the province.
During the march to the Tyrannus farm, Magashule stopped intermittently to engage with the communities he met along the way, to find out about their problems and how they could be addressed.
Shelter and unemployment topped the list of the people's needs. One of the residents, Dibakiso Dlamini, requested a house and any kind of job to help her provide for her family.
In response, the premier took her details and promised that the relevant departments will attend to her problem.
Apostle Mokoena said the Tyrannus church's partnership with the government to curb the escalating abuse of women and children by men and boys had borne fruitful results.
"The turnout of men and boys is evidence that we are getting to mould our boys and men into good leaders."